[ads1]Reliance Jio Preview offer has been extended to three more popular brands in India, covering a larger user base getting eligble for 90 days of unlimited 4G LTE data, calls, SMS and Jio apps. HTC, Vivo and Intex smartphone owners can now get free Jio 4G SIM from Reliance Digital, Express and Express mini stores across India. This brings the total number of JPO-eligible brands to 19. Samsung, HTC, Micromax, Sony, Vivo, Intex, Lava, Gionee, Panasonic, Asus, Xolo, LG, Karbonn, Videocon, YU, Sansui, Alcatel and TCL handsets are a part of the Partner Jio Preview Offer.
Samsung devices:
Grand Prime 4G, Galaxy J1, Galaxy J2, Galaxy J7, Galaxy J5, Galaxy S5 Plus, Galaxy A5, Galaxy A7, Galaxy Core Prime 4G, Galaxy S6, Galaxy J3 (2016), ON7, Galaxy A8, Galaxy S6 Edge, ON5, Galaxy Note 5, Galaxy Note 4, Galaxy Alpha, Galaxy S6 Edge Plus, Galaxy Note 4 Edge, Galaxy Note 5 Duos, Galaxy S5 Neo, S7, Galaxy A5 (2016), Galaxy A7 (2016), S7 Edge, A8 VE, J5 (2016), J7 (2016), ON5 Pro, ON7 Pro, Galaxy J2 (2016), J Max, Galaxy A9, Galaxy A9 Pro, Galaxy C5, Galaxy C7, Galaxy J2 Pro, Galaxy Note 7.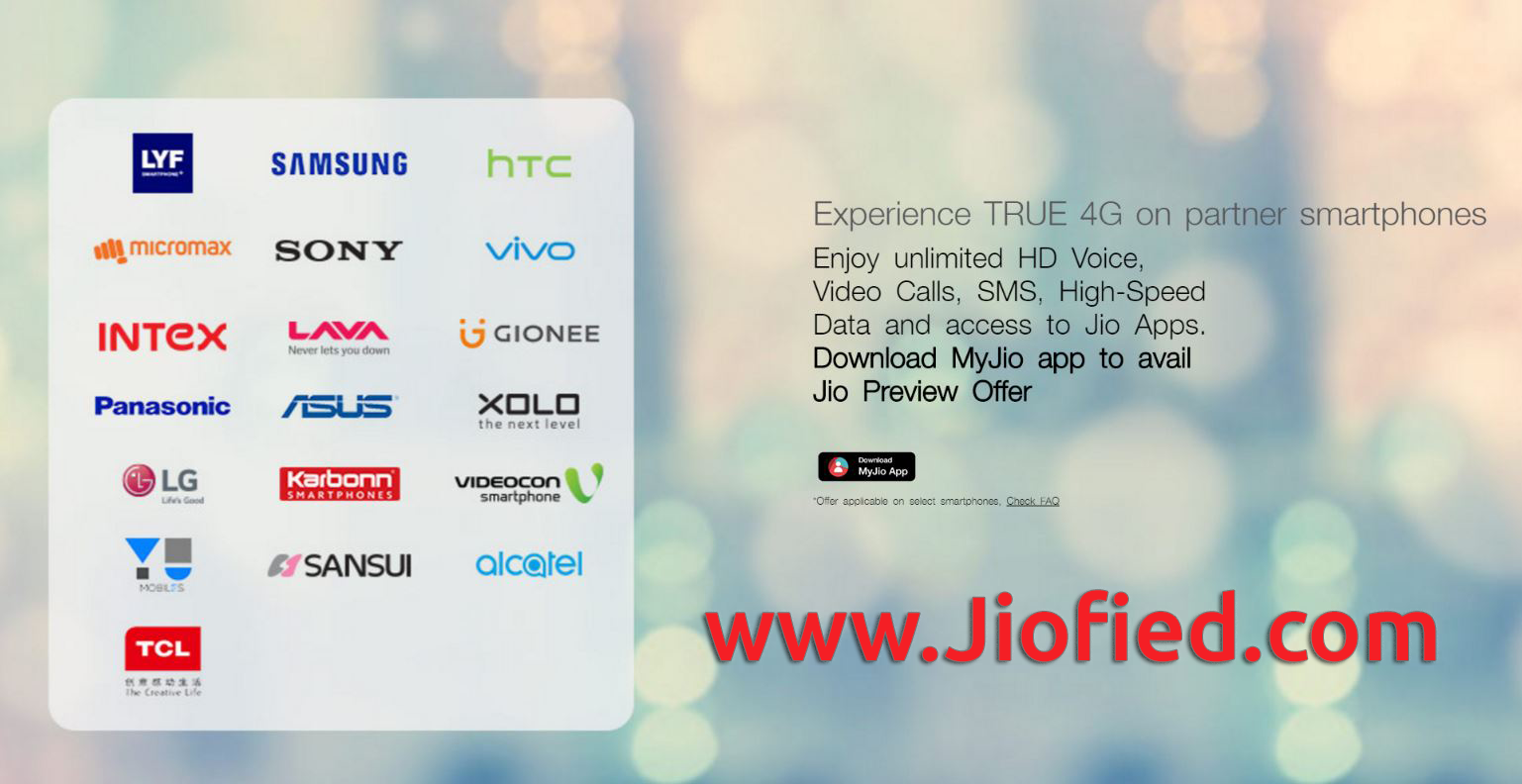 HTC devices: Desire 626 dual Sim, Desire 628, Desire 630, Desire 728 Dual SIM, Desire 820, Desire 820Q, Desire 820S Dual Sim, Desire 825, Desire 826, Desire 826 DS, Desire 828 DS, Desire 830, Desire Eye, HTC 10, HTC 10 Life style, One A9, One E9 S dual sim, One E9+ Dual Sim, One M8, One M8 Eye, One M9 Plus, One M9e, One ME Dual Sim, One X9
Micromax devices: Bolt Selfie, Canvas 5, Canvas 5 Lite, Canvas 5 Lite Special Edition, Canvas 6, Canvas 6 Pro, Canvas Amaze 4G, Canvas Blaze 4G, Canvas Blaze 4G Plus, Canvas Evok, Canvas Fire 4G, Canvas Fire 4G plus, Canvas Fire 6, Canvas Juice 4G, Canvas Knight 2, Canvas Mega 2, Canvas Mega 4G, Canvas Nitro 4G, Canvas Pace 4G, Canvas Play 4G, Canvas Pulse 4G, Canvas Sliver 5, Canvas Tab, Canvas Unite 4, Canvas Xpress 4G, Unite 4 Plus, Unite 4 Pro
[ads1]
Sony devices:
Xperia X A, Xperia X A Ultra, Xperia X(F5122), Xperia Z5 Dual(E6883), Xperia Z5 Premium Dual
Vivo devices: vivo V3, vivo V3Max, vivo Y21L, vivo Y51L
Intex devices:
Aqua 4G, Aqua 4G Star, Aqua 4G Strong, Aqua 4G+, Aqua Ace, Aqua Ace 2, Aqua Ace Mini, Aqua Craze, Aqua Eco 4G, Aqua GenX, Aqua Music, Aqua Power 4G, Aqua Raze, Aqua S7, Aqua Secure, Aqua Shine 4G, Aqua Strong 5.1, Aqua Super, Aqua Trend, Aqua Turbo 4G, Aqua View, Aqua Wing, Cloud 4G Smart, Cloud 4G Star, Cloud Crystal 2.5D, Cloud Fame 4G, Cloud Flash, Cloud Glory 4G, Cloud Jewel, Cloud String HD, Cloud String V2.0, Cloud Swift
Lava devices:
A71, A72, A88, A89, Ivory s 4g, Lava V5, Pixel V2, V2s, X10, X11, X12, X17, X28, X38, X46, X50, X81
Gionee devices:
E8, F103 Pro, F103(1GB), F103(2GB), F103(3GB), M4, M5, M5 Lite, M5 Lite CDMA, M5 Plus, P5L, S Plus, S6, S6s, S7, V6L
Panasonic devices: ELUGA L, ELUGA Switch, ELUGA Icon, T45, ELUGA I2 ( 1GB ), ELUGA L2, ELUGA Mark, ELUGA Turbo, ELUGA Arc, ELUGA I2 2GB, ELUGA I2 3GB, ELUGA I3, ELUGA Icon 2, ELUGA A2, ELUGA Note, P55 Novo 4G, ELUGA Arc 2, P77
ASUS devices:
ZenFone 2 Laser (ZE550KL), Zenfone 2 (ZE551ML), Zenfone Max (ZC550KL), Zenfone 2 Laser 5.0 (ZE500KL), Zenfone 2 (ZE550ML), Zenfone Selfie( ZD551KL), Zenfone 2 Laser (ZE601KL), Zenfone Zoom(ZX551ML), Zenfone Go 5.0 LTE (T500), Zenfone 3 ZE552KL, Zenfone 3 Laser( ZC551KL), Zenfone 3( ZE520KL), Zenfone 3( ZS570KL), Zenfone 3( ZU680KL)
[ads1]
Xolo devices:
Black-1X, era 4G, era 4K, era XLG devices: K332 (K7 LTE), K520DY (Stylus 2), K520DY, H860 (LG G5), K500I (X Screen), K535D (Stylus 2 Plus), LGH630D (G4 Stylus 4G) & LGH 442 (LGC70 Spirit LTE)
Karbonn devices:
Aura 1, Aura Power, Quattro L45 IPS, Quattro L50 HD, Quattro L51 HD, Quattro L52 VR, Quattro L55 HD
Videocon devices: Graphite1 V45ED, Krypton 3 V50JG, Q1, V50FA3, V50FG6Yu devices: Yu Yureka, Yu Yutopia, YU Note, Yu Yuphoria, Yunicorn, Yunique, Yuphoria, Yureka Plus, Yureka S
Sansui devices: S50 FD45S
Alcatel devices:
OneTouch X1, Pixi 4 -5, POP Star, POP3, POP4
TCL devices:
FIT 5.5, Pride T500L, TCL 560, TCL 562
We have noticed that some of the partner smartphones are not getting the "Get Jio SIM" option in the MyJio App. We have reached out to the company for clarification and we'll update readers on this soon. But on the activated SIM cards, the 4G data service is truly impressive. JioOnDemand is a great place to watch HD movies without the need to sign up or pay any subscription fee. There is no question of buffering as the Jio connection takes care of that.
How to Get Reliance Jio SIM Preview offer
[ads1]
How to Get Reliance Jio SIM Preview offer for Private and Government Organizations
Visit the nearest Reliance Digital/ Digital Express/ DX Mini Store.
Carry Original and Photocopy of Proof of Address (POA) and Proof of Identity (POI) along with passport size coloured photograph and your employee ID card.
Fill the form along with Signatures
Get the Reliance Jio SIM for Free
Tele Verification process will take within 1-5 days
Enjoy your Reliance Jio Preview Offer Unlimited plan for 90 Days with high-speed 4G Data, Voice calls.
To access unlimited voice calls plan, you may additionally download My Jio App on your Smartphone, to make voice calls, video calls, and to access all my Jio apps.