The new offering from Reliance simply carries forward the name 'JioFi' as written on the box. The new design of the JioFi device does away with the previous models computer-mouse style, in favour for a flatter and square design with rounded edges.
[ads1]
Unlike the JioFi 2, the new JioFi features an OLED display that is able to show information like – Wi-Fi connectivity, SIM card status, battery status, On/Off status and more. The device itself looks considerably bigger than the previous generation, thanks to the 2,600 mAh battery backup – compared to JioFi 2's 2,300 mAh battery.
The backside of the device carries a "Designed in India" label. Reliance could have got this assembled locally in India. The device comes in two different cylindrical packagings – blue and red. Both the colourful boxes carry the JioFi logo on the side, but what we do not no yet is whether there is any difference in the device itself in the different packaging.
[ads1]
The features on the box show that the 2,600 mAh battery of the device will be able to give five hours of use on full charge, exactly the same as the previous model. Upto 10 devices can be connected to the JioFi at the same time, down from 31 devices that the JioFi 2 could handle. There is a microSD card slot that accepts cards upto 32GB.
Read: Exclusive : Jio Gigafiber Welcome Offer started with 1 Gbps Speed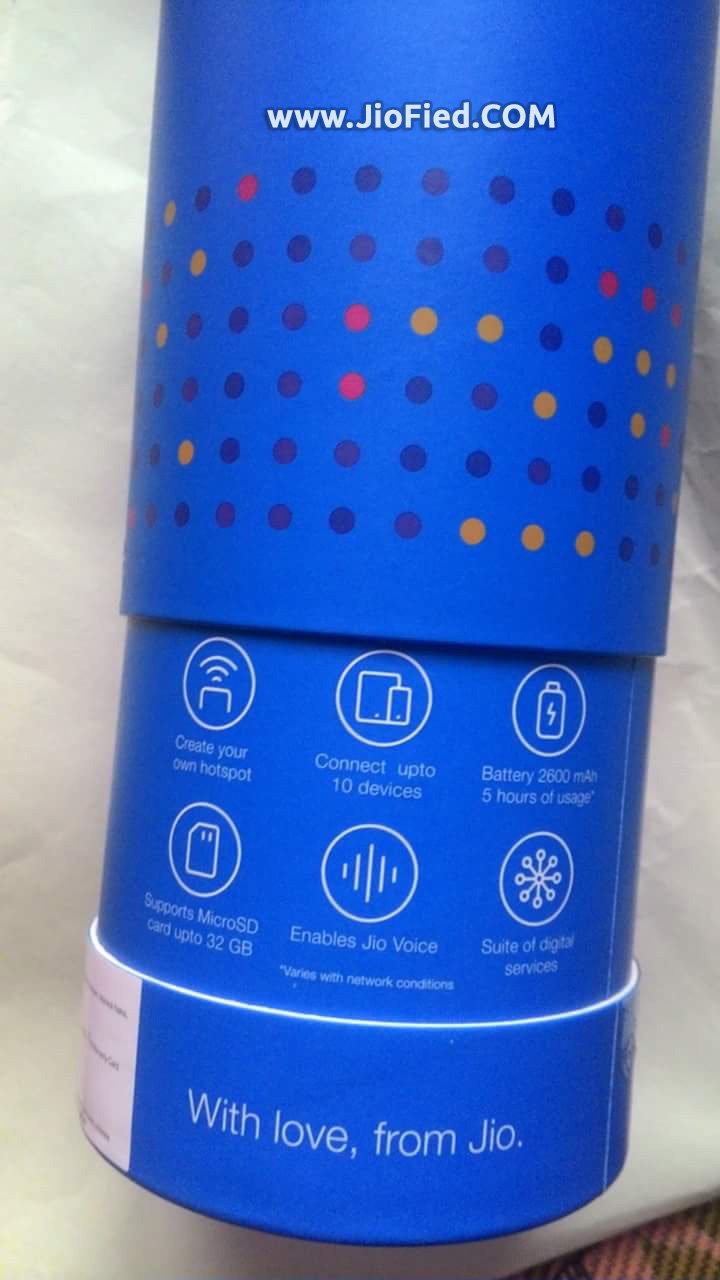 The new JioFi is priced at Rs 1,999 and is available in selected cities. The price of JioFi 2 was recently slashed by Reliance, and now retails at Rs 1,999 down from its original price of Rs 2,999. JioFi devices will give a user access to unlimited 4G data until December 31, after which they can decide to go with Reliance's cheap data plans.
Read: Jio Fibre : GigaFiber FTTH Broadband tariff starts at Rs 500
Users can also buy a Reliance Jio 4G SIM, and can access unlimited 4G data on their own smartphone device. Here is the list of all the devices that are supporting Jio's Welcome Offer.
[ads1]